CAD/CAM Software
Exclusive End User of PartMaker Software

An introduction to CAD/CAM Software
PartMaker is a Computer Aided Design (CAD) software program used in design and machining or manufacturing of a component in combination with Computer Numerical Control (CNC) machines. The part design drawing is created in CAD and then the CAD model is loaded into Computer Aided Manufacturing (CAM). However, if a tool incorporates both CAD and CAM functions, such as PartMaker, then this latter step is unnecessary.
After creating a digital prototype, the software checks for geometry errors, creates a path for the machine to follow, sets the machine's speed and other characteristics, and determines the part's orientation. At this point, the CNC machine is ready to produce the part. The program is loaded, the material positioned in the machine and the machine creates the finished product.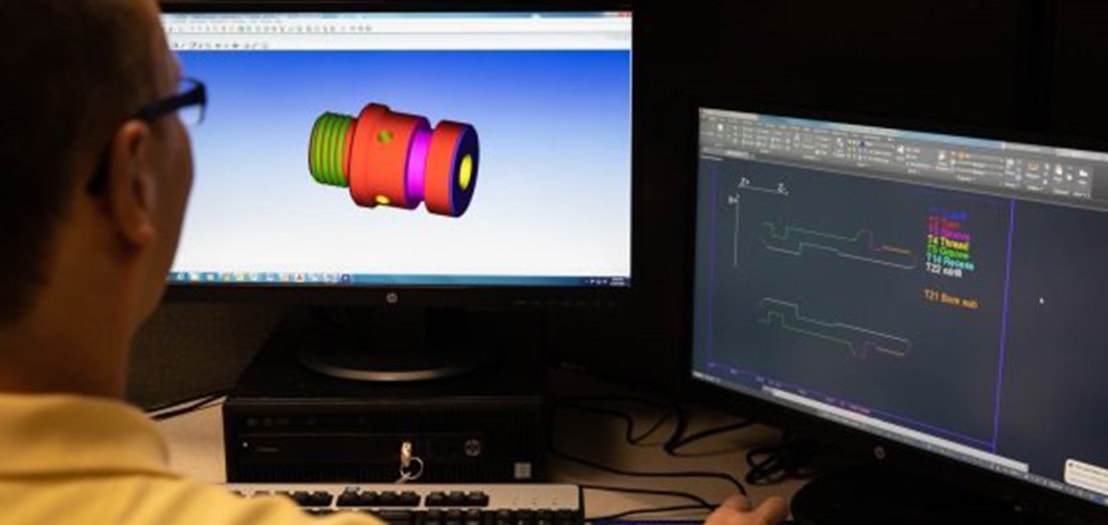 How PartMaker Benefits Our Customers
PartMaker is the best software for part turning and milling, and is particularly appropriate for the mobile fluid power industry, in which our components play a large part.
Manufacturing Speed
PartMaker reduces our response time by allowing our engineers to analyze, visualize and simulate the product design digitally instead of building a physical prototype. In one case, we received a client's blueprint on Thursday afternoon, worked during the weekend, had sample parts by Monday and were in production by the middle of the week.
Component Accuracy
Using PartMaker, we examine overlaps to see if they make sense, and we also look for collisions. We easily make any necessary adjustments in the program or in the sequence of the process, so we know that the program we put on the machine is going to give us accurate geometry right out of the box.
Quoting Efficiency
PartMaker increases our proposal efficiency by helping us provide quick quotations. Laying out the part completely in PartMaker provides a rendering of the part that not only ensures that all part features are represented, but also helps to determine the cycle time with extreme accuracy. An accurate cycle time leads to a good quotation.
DuPage Machine Discusses PartMaker